So I used to just send you in the direction of my first blog post,"Call Me When You're 25," but decided it makes more sense to put "The Story" all together in one place. I've split it into two parts: The History & The Surgery
The History
What better way to start, than from the very beginning? A little bit of history and necessary "about me" basic facts. They may seem a tad random, but trust me, will be important later: I am the youngest in my family and have one brother who is 3 years older than me. My Mom comes from a family of four siblings, my Dad has one sister – my Aunt Peg. She has 2 children (my cousins), one boy, one girl.  Both of my paternal grandparents passed away when I was very young, from non-cancer related causes.  So there's our basic family tree… got it? And for the record… not just a family tree… they're some pretty amazing "leaves" if you will!

We have no known history of breast or ovarian cancer in my family, and had no idea that there would ever be a genetic tie to cancer that we could carry. That is, until 2008. My Aunt battled (and conquered!) breast cancer at a relatively young age (45), and eventually was approached to be tested for a BRCA mutation (what the news loves to call "the breast cancer gene") with the BRAC Analysis test after she relapsed on the opposite side (which we now know is a huge red flag for a BRCA mutation). She tells the story that it was to everyone's surprise, even her doctors, that she came back BRCA2 positive. Often when you hear of positive results, no one is surprised as there is a huge long run of cancer in the family. Well, we like to be different, that's for sure! Even with the help of genetic counselors, we haven't been able to trace back any other cases of breast or ovarian cancer, and we will never know which of my grandparents possessed the gene. Knowing how the gene was passed on, my Dad was then tested for the mutation. For what it's worth, I did not know he had been tested, nor that my Aunt was positive, until we got the results that my Dad was indeed positive. At that point my parents told me, and I was faced with the decision of whether or not I wanted to get tested myself, and if so, when. There is a lot of debate about whether or not young women should get tested, knowing that there isn't much that can be done until the magic age of 25, making it a very personal decision.
So now we're in the summer of 2008… August to be exact. I was starting my junior year of nursing school, which now seems like forever ago. I had actually learned about BRCA mutations in the semester prior to this, and as soon as I was told I could have the mutation, I immediately knew that not only did I want to get tested, but that I was positive. Call it a gut feeling or whatever you like, but I just knew. I have gotten asked why I wanted to get tested, and to me it was honestly never a question. I admit I'm a Type A, likes to be in control, kind of person, and I just couldn't imagine not knowing. So I met with the same genetic counselor that my Dad had worked with, and Sarah was such a blessing. She walked us through the whole process, which admittedly is much of a blur at this point. I do, however, distinctly remember the phone call in which she told me "you were right, you're positive." And then seeing it in writing… well that will solidify anything. My actual results… the word "deleterious" is just so… real.
The last step after finding out my results was to see a breast surgeon to discuss what it all meant to have The Gene. That appointment is also a blur, but what stands out in my mind is how we discussed the importance of having kids early (ouch! I know… just what every 20 year old wants to hear!) and to call him when I turned 25 to start surveillance and discuss my options at that point. I went on living my life for the next 4+ years, graduating nursing school, working as a full-time nurse, and then taking another job; living in a wonderful downtown area and acquiring a fabulous roommate; and basically living it up as a young 20-something making incredible memories with my amazing family and friends, knowing in the back of my mind that I would eventually have to make some decisions regarding my future.
The Surgery

So, to begin, I'm going to go back to the moment when I first seriously thought about having this surgery… I started this blog on my birthday, but by that point my mind was entirely made up. So here's the complete back story that hasn't been told yet.
We have to go back to October 2012 – that's when it really hit me that I was turning 25 in 3 short months, and that I was inevitably going to have to face the fact that I am a "mutant" instead of just having it in the back of my head, like I had for the past 4 years since I found out in 2008. Every year since my Aunt was first diagnosed with breast cancer in 1995, she and my cousin have participated in a Breast Cancer Walk in their hometown each October (you know, when the world turns pink for a month). It had always been a wish of mine to complete this walk with them, and I decided what better year to do it than right before I was going to be thrown into the "pink world" myself? So that summer while visiting our family, my Mom and I decided we would go up, make a long weekend of it, and get our walk on.
At that point I was a full-time ICU nurse, so scheduling was easy – I worked 3 12 hour shifts a week, so long weekends were a frequent occurrence for me. We bought flights, and we were set. Well, as luck would have it, a once-in-a-lifetime job opportunity got literally dropped in my lap that August, and by September I found myself an 8-5, Monday-Friday girl. What?! Yeah, talk about transition! As I quickly caught onto the gist of this new job, I realized there was just no way I was going to be able to go up to the walk. I was pretty upset, to say the least. I insisted that my Mom still go without me, and being the jokers that my family is, they decided that I still had to go with them, one way or another.
This is the part of this story that gets a little funny (and hopefully not offensive!) Chances are if you spend any time around kids, you've heard of Flat Stanley… if you haven't, Wikipedia is your friend. So the basic story is that little kids are given a paper doll-like little guy and he goes on travels/vacations with kids, and they take pictures with him. Well, my Mom decided to make "Flat Diana." We laughed, Mom took a picture of me, and THIS is what happened (though for the record, they all insist they didn't carry it like that for the entire 5K… the three of them took turns "carrying me through" to the finish line):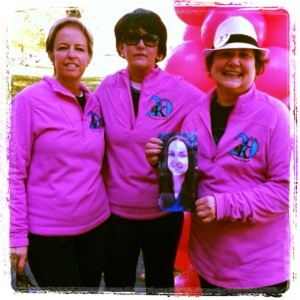 In the most innocent of ways possible, it looked like they were memorializing me. I thought maybe it was just me, so I showed the picture to a doctor I work with and, with no filter, he says "oh my God you're dead." And that's when I had the moment of (excuse my French): "Oh shit. I can't die. I can't do this to my family. To my friends. I will NOT be THAT GIRL." And that's how it all began.
Less than a week later, sitting on the patio of Blue Mesa drinking cheap white wine, I brought up the possibility of the surgery to Ruthie, one of my closest friends for the last 10 years. She knows me well, so she wasn't overwhelmed by the idea. And as we talked through it, we both realized that even though having the surgery was a choice, there really was no other option. We've been through a lot together, both happy and horribly sad, and we knew that my getting breast cancer was not something that we wanted to add to that list, if there was anything I could do about it. So on that night, Friday, October 19, 2012, I decided: I was going to have a prophylactic bilateral mastectomy. And soon.
Let the research obsession begin… after weeks of reading everything I could get my hands on, it really helped me to put it all in one place and sum up all the reasons "On Why" I decided to have this surgery. I really did call my breast surgeon when I was 25 (okay, it was before… he's a popular guy!), and saw him soon after. Things were then put in motion. You can read the blog posts from February-July, 2013 that led up to the surgery on August 6, 2013.