Well, I wrote this yesterday and am glad I did – today was not so much the low key day I'd hoped for ("turning the corner" from yesterday was apparently unintentionally presumptuous), but it was still a day surrounded by the people I love, so that's what matters. Can't let this day pass without posting it, so without further ado…
I suppose it's a cliche to write what I'm thankful for on Thanksgiving, but after this past year, how could I possibly not? It's been quite the year indeed, but time and time again I've been reminded how incredibly lucky and blessed I am. I truly couldn't have made it through the past year without the never-ending support of everyone around me, and today seems like the perfect day to acknowledge the amazing people in my life. Because, as Meredith Grey so wisely said years ago, "people are what matter."
My Parents
What can I possibly say? Mom and Dad have won "Parents of the Year" over and over again. They have graciously let me crash with them after both surgeries, and have anticipated my every need. They've been there for doctor appointments, waited through surgeries, and have been my biggest supporters long before this BRCA stuff began. I will never take their love and support for granted, and truly cannot put into words how grateful I am for them. Simply stated, they are truly the best.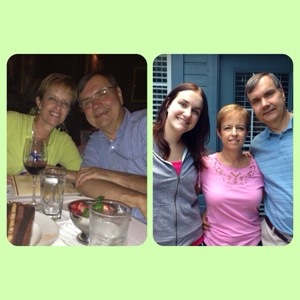 My Family
Even though we're spread far across the country, I am so thankful for my entire family – they've been such huge supports throughout everything. My brother, cousins, uncles… They're just awesome. And I'm especially grateful for my Aunt, who's been my biggest inspiration throughout this entire BRCA journey. While ignorance could have been bliss, I'm so thankful she was tested for a BRCA mutation, and shared the knowledge so I could do something proactive about it. Having her here after my first surgery was such a blessing, and I am forever grateful for the sacrifices she, and everyone else, has made for me.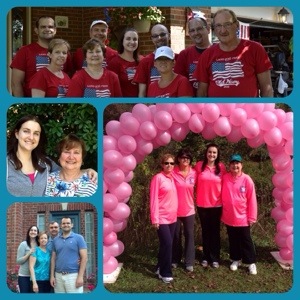 My Friends
Goodness I don't even know where to start on this one. I hear horror stories of people losing friends when they make big decisions such as having prophylactic surgery, but I am so incredibly grateful that my friendships grew stronger, and that I gained new friends throughout the process. The morning of my mastectomy the nurses kept saying "you're popular!" because I had so much support. I don't know about that, but I sure am lucky. I know I'm setting myself up for failure by starting to name names, but this wouldn't be complete without a special shoutout to the planners (instigators?) of my "Boob Voyage" – you are all incredible and sure know how to make a girl feel loved and embraced (even in a boob scarf! *cough* Nicole) going into surgery. Another to my roommate, for always being there and having my back (and front… I suppose that is more accurate this year). To Hayley, despite being far away you've been there, as always, and same with the Fab 5, even after all these years. To my goddaughters and their family, and their way of innocence and always making me smile. And of course, to Ruthie – you've never missed a beat and I am so grateful you have been there from the moment I told you about this crazy surgery idea last October to waking up from my last surgery. I am beyond grateful to have you all in my life and treasure our friendships and memories more than you will ever know!  Just a sampling of the awesome, for the sake of InstaFrame…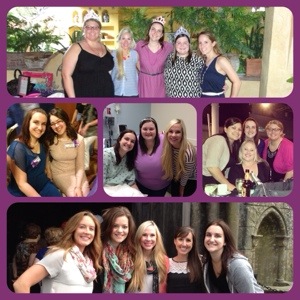 My Work Family
I realize how incredibly lucky I am to get up every morning and not only not dread going to work, but actually look forward to it. And that is simply because of the incredible people I get to work with, both on a daily basis and on a not-so-daily basis (shout out to my amazing ICU peeps!) All I asked for was understanding of why I would be out, and what I got back was support, tenfold. More than I could have ever imagined, they've embraced me, and my journey – my amazing bosses, my incredible coworkers, everyone. Grateful doesn't even begin to describe that feeling, and the feeling of knowing you're missed. I am so thankful for a job that I love and for the incredible relationships I've made as part of it – I can't wait to be back.
My Medical Team (& Medical Technology)
This one's tough – how do you possibly put into words how thankful you are for the people that have made it their job to be able to give you a new outlook on life? And that somehow have made the whole process of doing so an overwhelmingly positive experience? I am so grateful for my entire medical team – for my trifecta of amazing BRCA-related doctors, and those non-BRCA too (aka neurosurgeons involved in mastectomies!) For the nurses, genetic counselors, and everyone else that have been incredible every step of the way. I am so thankful for having a world-renowned medical center literally in my backyard, and truly couldn't have asked for a better experience with all (and there have been many!) appointments, tests, and surgeries in the past year. I am beyond thankful that there is technology advanced enough so you can know your risk and options for people who are high-risk. And personally, for a swift recovery from two surgeries in four months, and insurance to cover them – Can't believe I'm "on the other side," but because of my amazing breast and plastic surgeons I am, and because of their incredible expertise and skill, you would never even know what this last year involved! Simply amazing.
The People Behind Facebook, "the Blogs," and the Internet
It will probably never sound not-creepy to say "I was talking to this girl I met on Facebook…" but it really, really isn't. The ability to connect with people across the world that are going through the same thing is really just amazing, and has been such a huge source of support. For the brave women who have shown me that this surgery is do-able, I am forever grateful. For the women that have gone before me and documented their journeys… I can't begin to say what a help it was (and continues to be). I hope I've been able to "pay it forward" like Amy, Eryn, and so many others have done for me. And even though we've never met in person, to have "surgery sisters" on the same schedule as you are, is just freaking cool.
I'm simply grateful for technology, and its ability to connect people and organizations, such as Bright Pink. If you told me a year ago I would be traveling to Chicago with two girls I had never met before, I would have told you that's crazy. And maybe it was, but it was a big highlight of the year. To be surrounded by people that "get it," is just incredible. And I'm so grateful for the many new friends I've gained from our local chapter – never underestimate the unspoken bond of "BRCA Babes!"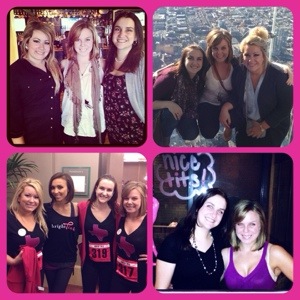 And last, but not least, I'm thankful for you. For reading and supporting, for being on this journey with me. I found these incredibly perfect cards on Etsy after my first surgery, and connected with the incredible seller (check her out here!) so since I couldn't send cards to the entire world, here's my virtual "thank you" to all…