Or shall I say The Dudes? In this case, the Boob Dudes.
This is the page devoted (with permission) to the two individuals that are responsible for decreasing my risk of breast cancer by 90%, and then building back the pieces so well that you would never know I've had surgery. For giving me the peace of mind to go forward with life without the fear that I will fall into the 87% of BRCA mutation carriers diagnosed with breast cancer. Simply stated, they're pretty much amazing.
They're both humble, beyond knowledgeable and skilled, and have truly made this journey something that I will look back on with overwhelmingly positive memories. I know it's not like that for every woman, and I am eternally grateful for their never-ending patience and kindness – I truly couldn't have asked to be in better hands.
Here we are on "Boob Day" – August 6, 2013 – right before I went to the OR: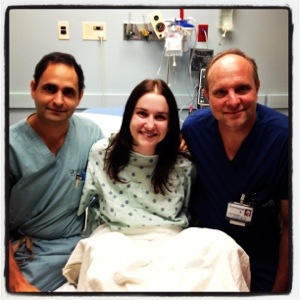 Dr. Sumeet Teotia, Plastic Surgeon, Me, and Dr. David Euhus, Breast Surgeon (now at Johns Hopkins)