WOW!  What a day!  And what a difference a year makes!!  I've been looking forward to this day for so many months, and it was everything, and more, that I could have ever imagined.
I finally got a chance to write out the "back story" a couple months back on why I decided to have a prophylactic bilateral mastectomy, and today it truly came full circle.  For ease of reading, from "The Story:"
"We have to go back to October 2012 – that's when it really hit me that I was turning 25 in 3 short months, and that I was inevitably going to have to face the fact that I am a "mutant" instead of just having it in the back of my head, like I had for the past 4 years since I found out in 2008. Every year since my Aunt was first diagnosed with breast cancer in 1995, she and my cousin have participated in a Breast Cancer Walk in their hometown each October (you know, when the world turns pink for a month). It had always been a wish of mine to complete this walk with them, and I decided what better year to do it than right before I was going to be thrown into the "pink world" myself? So that summer while visiting our family, my Mom and I decided we would go up, make a long weekend of it, and get our walk on.
At that point I was a full-time ICU nurse, so scheduling was easy – I worked 3 12 hour shifts a week, so long weekends were a frequent occurrence for me. We bought flights, and we were set. Well, as luck would have it, a once-in-a-lifetime job opportunity got literally dropped in my lap that August, and by September I found myself an 8-5, Monday-Friday girl. What?! Yeah, talk about transition! As I quickly caught onto the gist of this new job, I realized there was just no way I was going to be able to go up to the walk. I was pretty upset, to say the least. I insisted that my Mom still go without me, and being the jokers that my family is, they decided that I still had to go with them, one way or another.
This is the part of this story that gets a little funny (and hopefully not offensive!) Chances are if you spend any time around kids, you've heard of Flat Stanley… if you haven't, Wikipedia is your friend. So the basic story is that little kids are given a paper doll-like little guy and he goes on travels/vacations with kids, and they take pictures with him. Well, my Mom decided to make "Flat Diana." We laughed, Mom took a picture of me, and THIS is what happened (though for the record, they all insist they didn't carry it like that for the entire 5K… the three of them took turns "carrying me through" to the finish line):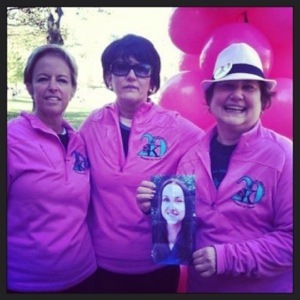 In the most innocent of ways possible, it looked like they were memorializing me. I thought maybe it was just me, so I showed the picture to a doctor I work with and, with no filter, he says "oh my God you're dead." And that's when I had the moment of (excuse my French): "Oh shit. I can't die. I can't do this to my family. To my friends. I will NOT be THAT GIRL." And that's how it all began."
And today, just one year later, after a successful surgery in August, I got to come to the walk and cross the finish line holding hands with my incredible Aunt, Mom, and Cousin.  It meant so much more this year, knowing that I have done everything in my power to beat breast cancer before it can even start.  It was such an incredible experience to see the SEA of pink (5000+!!) and be a part of it.
The absolute best part was, without a doubt, recreating this picture – having decreased my risk of breast cancer by over 90% from that horrible, scary one above, to today.  And all smiles, of course!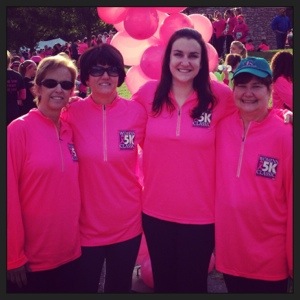 Here's a montage of alllll the pink – such an inspirational experience to be surrounded by all that!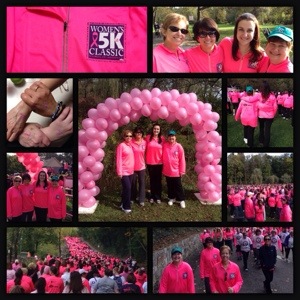 When we were last up here over the summer, my Aunt dug out all of her shirts from all those walks starting in 1995.  We had a lot of fun looking at all the designs, and then my Aunt sent them home with my Mom to make a quilt of them.  Well, my Mom truly redefined "T-Shirt Quilt," that's for sure, when she created this beauty.  See, those drain aprons were just a small taste of her craftiness!!  Such an incredible, thoughtful gift that I know my Aunt will treasure forever.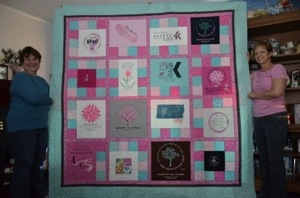 It was such a special, emotional experience to be out there today that I don't even know what to say at this point.  So, instead of blabbering on, I'll end with my personal favorite picture of the day, a butt pic, if you will – walking with my Aunt.  Survivor on the left, Previvor on the right.  THIS is what this is all about!