Bittersweet. That's the only word I can use to describe the past few days. I've done pretty well avoiding the "post-mastectomy emotional roller coaster" that everyone on the blogs and Facebook assures me is inevitable, but it's definitely hitting me today. And I knew it would – it's been building up over the past 72 hours, knowing that my return to "normal life" is imminent.
Yesterday was a long one. I began the arduous process of packing up all my things that I've had at my parents for the past three weeks, so I could move back to my apartment. When you still can't lift a lot, it makes for a ton of trips! But my wonderful parents helped me get it all together so we could move it all back. But first, one last lunch with my parents and Aunt before she had to hop a plane back home. And so begins the bittersweet.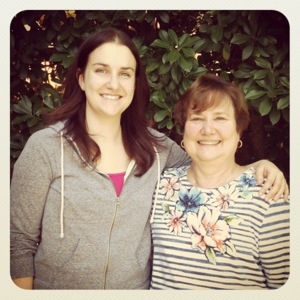 Having my Aunt here for the past week has been so great – and it's amazing to think back to the first day she got here and realize the progress I've made! She's been such a help, my "personal nurse," as she called herself, to both me and taking the burden off my parents (though they insist they don't mind!) The joy of getting the final drains pulled wouldn't have been the same without her presence – the presence of a survivor, of someone who has had breast cancer, who "get's it." But her wonderful visits always come to an end much too quickly, and it's time to see "see you later" again. Thankfully, this time we know when that is for sure! Hopefully you've noticed that I was able to get all my "pages" at the top updated over the past few days, including the never-before-been-told back story to last October when I first started thinking about having this surgery. Well, last night we made our flights so we can recreate that horrible picture, and replace "Flat Diana" with "Fabulous Foobs Diana" at this year's walk! Crazy the difference a year makes!
So with more wonderful memories made (many of just sitting around watching movies, playing cards, or sitting on the patio just enjoying being together, living intentionally), my Aunt was on her way. And my parents and I made our way back to my apartment with almost all of my stuff. Now hopefully you've gathered by now that my parents are pretty much the most incredible, generous, amazing people you will ever meet. They are a huge part of the bittersweet feelings today – as much as I know it's time for me to get to back to life, and that living life is the whole reason I had this surgery in the first place, it's hard to leave them when they make being home so great. The constant company, helping with everything possible, every-morning Starbucks, yummy vegan cooking, and, more than anything, just "being there" – I am so, eternally grateful for them, my best friends, there truly aren't words. I hate that I had to have this surgery, but truly cherish the family time it brought us. As my Dad said last night, now we have "one less (big) thing to worry about!"
Not only did they haul all of my stuff back here, they then proceeded to clean my entire apartment, and take me grocery shopping, knowing it would have taken me a zillion trips. I've promised them I won't overdo things these next few days, and all of their help and preparation has assured that! Because my breast surgeon post-op appointment was moved to this morning, I went back home with them last night. We were all tired so we called it an early night! But I am so grateful for my last night at home. Mom and Dad – I don't know what I would do without you, and I wish there words to tell you how much I appreciate everything you do for me. Suffice to say, I love you dearly and "You're the best!"
So this morning Mom and I set off to see my beloved breast surgeon for my post-op appointment. Now this should just be sweet, right? Getting the final all-clear to move onto a new, risk-reduced life? Not so much. I was equally heartbroken and excited to learn (my plastic surgeon spilled the beans while I was in the hospital – mainly to get me on the "guilt train" wagon that I happily hopped on!) that my breast surgeon will be relocating halfway across the country to one of the most premiere medical centers in the world. It is an amazing place and he will do incredible things there. I am so fortunate to have had an internationally recognized BRCA expert perform my surgery, and needless to say the timing was perfect – he's leaving next month, so I will be one of the last patient's that get to experience my literal "dream team" breast surgeon/plastic surgeon duo. He told me when I was getting ready to leave the hospital and giving him the necessary guilt trip, "you don't need me anymore!" Yes, it's true, the big part is over. The breast tissue is gone. And it wouldn't have been the same if anyone else had done it. But, selfishly, it still sucks. So that's the bitter part – he's leaving us. And women won't be able to have my breast and plastic surgeon work together like they did for me. But the sweet part? He happens to be moving not far from where my Aunt (and the rest of my extended family) live. So instead of having to find a new doctor to follow up with (that's the beauty of this surgery – no more MRIs/mammograms/ultrasounds, just a yearly physical exam!), we will fly up a day early for vacation and continue to see him. I could never find a more perfect doctor, so it's worth it to me and my Dad (he sees him yearly as well for surveillance since he's BRCA positive) to make the trip for his expertise. I mean seriously, how many doctors will have a list of clinical interests that include:
Breast cancer surgery
Nipple-preserving mastectomy
Cancer risk assessment
High-risk breast cancer patients
Cancer genetics
BRCA1, BRCA2, Lynch Syndrome, Cowden Syndrome and other genetic mutations
Lifestyle modification to prevent and manage breast cancer
Every single one of those apply to me, so seriously, just a perfect match. And I feel most comfortable continuing to see the person that did my surgery himself… even if it does involve a little bit of additional logistical planning! And the biggest "sweet" part of our visit: his report, that everything looks "beautiful!" Incisions, drain sites, reconstruction thus far, and of course, the clean pathology report. Sweet, sweet relief to have made it to this point.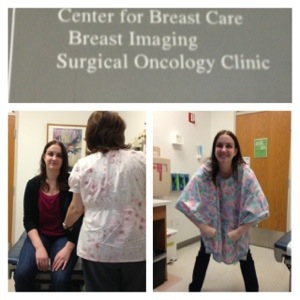 Here's my official "I conquered prophylactic bilateral mastectomy" montage – you know, before and after, in the CAPE! Haha those things never cease to crack me up. The left was at pre-op on July 22, the right today, August 26 – you can barely see a difference, but wow what a difference 5 weeks makes! The better way I like to caption that is "on the left: 87% chance of breast cancer, on the right: less than 10%"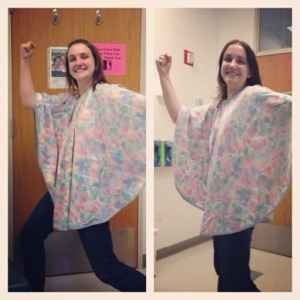 So we ended the visit with mutual "thank you's" and "we'll see you next year's", a lovely survivor came in to explain post-mastectomy exercises, we had a rendezvous with my lovely nurse (I will certainly miss her!!), and we were off. With the "post-op visit" bookend over, the mastectomy part of this whole journey is complete! Only the reconstruction remains.
For such a crappy underlying situation, my entire surgery experience has been overwhelmingly positive. I was telling my mom last night that while the relief of being over the worst of it is almost overwhelming, how weird it was to have these bittersweet feelings as well, and she agreed – adding that it's especially so because there was so much build-up over the last 6 months. It's certainly not something I would ever want to repeat, but I have been astounded by the "good" in the people around us, and this experience has forever changed me as a person. I know that I am certainly a more empowered person by going through this, and believe those around me are as well. And I also know, through a perfectly timed email that I received right when I got back here today, that I've already helped at least one person going through this herself, and for that… it's all worth it.
Not breaking tradition (and one of my most treasured one's at that), Mom and I headed off to post-doctor-appointment lunch. And then it was time. Time to get in my car and drive back to my apartment. To the rest of my life that's here waiting for me to live. Getting in the car was ridiculously reminiscent of college freshman move-in. You know that it's "normal," the right progression, and that incredible experiences await, but that doesn't make it any easier to leave the warm comforts of home, both physically and emotionally. Thankfully the ugly cry (part 1 of ??) that followed waited until after I was off!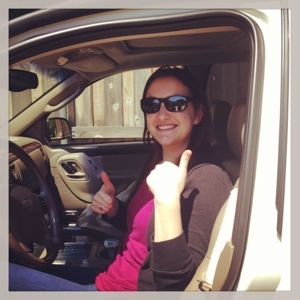 All the emotions and excitement of the last few days since my drains were pulled have left me fairly worn out, so I'll be taking it easy at my apartment over the next few days, as I slowly get back into things. Amazing how simple "Activities of Daily Living," as we medical peeps like to call them, will wear you out when you're still recovering – my range of motion is probably at 80-90%, but lifting is difficult and especially so is reaching for things, as the expanders remain cumbersome. But I've got support, I've done remarkable healing over the past 3 weeks, and I know in my heart I'm ready for the next steps – "baby steps to independence" as my Mom says!