Yell it from the rooftops: I'm DONEEEEE!!!!
Yesterday was the absolute smoothest, most perfect surgery experience I could have ever hoped for on all counts. Before it's all a giant blur, here's my recollection: I was blessed with the magical 10:30 am second slot… So no insane wake up time and a perfectly acceptable 8:30 am arrival time. I got checked in within minutes, and we headed up to the surgery waiting room where the amazing receptionist even remembered me and Mom. Impressive, given how many people she sees a day! We were a little early, and soon Mom's loyal waiting partner, and my rock of a best friend that hasn't missed a step of this entire process, Ruthie, got there. Of course the laughter started early, and we have a way of quickly getting people laughing with us!
Not long after they took me back to pre-op, and I was soon gowned up, got my IV started, and I met my fabulous anesthesiologist. Soon after, Dr. Teotia, my most awesome plastic/reconstructive surgeon, came in – right on cue as we had just started taking pictures!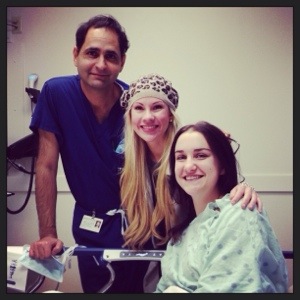 And then began the true artistry – he redefined "pre-surgical markings!" Literally from my thighs to above my expanders were covered in a strategic rainbow of colors – strategic because of a) my shunt and b) he is impressively cautious about not eliminating the option of flap surgery (years) down the line by messing with blood supply, etc, which I SO appreciate. I know I've raved about my plastic surgeon at length before, but he truly is amazing. Especially when he tells you you don't have much fat to graft! I begged to differ

But in all seriousness, he just has a complete sense of calmness, and his passion for his work and patients is unheard of.
So we went over the whole plan, and as he walked out he said "I have the A-team in room 10 – they're all super cool!" And he was SO not exaggerating. My CRNA Tommy and nurse Courtney were the absolute bomb!! In a matter of minutes, Tommy hooked me up with IV margarita (while Ruthie video'd…) and off to the OR we went, not even just on time but early. I remember them getting monitors and things situated and the last thing I said was "hey Tommy what was THAT awesome stuff you just gave me?" And I was out. Sure that got a good laugh!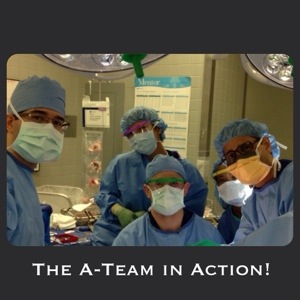 I arrived in PACU at 1:50 and my nurse Elizabeth was also total A-team! I ended up hanging out there for awhile to get pain under control and also because they were super busy in day surgery – clearly I wasn't the only one to strategically plan surgery around Thanksgiving! I was more than okay with this – we were making conversation like old friends, and she let ME call my mom to tell her we were heading out!
But yes, I did wake up in a pretty decent amount of pain. Dr. Teotia did everything planned… Took out the expanders, reinforced the left side (where the expander moved) with Strattice (pig skin) to keep the implant in place, put in 640 cc Natrelle 410 highly cohesive silicone ("gummy bear"), teardrop, moderate height, full projection implants, and did an incredible job with fat grafting (basically lipo but instead of trashing the fat you're moving it elsewhere, in this case my chest). It's the last part that's causing the pain… But it's SO worth it. I had a lot of breast tissue higher in my chest and under my arms, and my breast surgeon was so meticulous in getting every bit of that dangerous tissue out of there during my mastectomy that it left some noticeable crevices. You could feel wayyyy more ribs than desired. So that was a huge reason for the teardrop shaped implants, and the fat grafting just enhances that and fills in the gaps. But it also means I kind of feel like I got hit by a bus from my thighs to my armpits. My doctor told Mom I'd be really sore and he was, in fact, right. So in addition to the approximately 3 inch each incisions that were reopened on the sides of my breasts, I have 6 tiny incisions from the fat grafting: one in each armpit, one below each breast, and one (I think) on each thigh that was used to get fat from both the saddle bag and love handle areas (I mentioned my surgeon is awesome, yes??). I say "think" because in addition to the mastectomy bra fashion, I have on knees-to-boobs length zip-up compression leggings that put Spanx to shame. Oh and they're black and crotchless (aka:pee hole!), complete with lace trim. Because if that's not classy I just don't know what is!! The Uggs completed the ensemble and I'm sure it will be hitting the runways soon! But in all seriousness, the compression is to help with the swelling and bruising, which I anticipate will be pretty impressive given my affinity to bruise and that it had already started before I left the hospital. I tried to sneak a peak of the thigh sites this morning, but as I can't so much get them back on myself (did I mention the compression?!) I didn't get too far before Mom had to help… In a "you just couldn't leave it alone could you??" kind of way LOL. But anyway, that's the theory behind the fat grafting – thanks to all that offered to "donate" additional fat!! Haha. Yes the donor site removal of fat is a silver lining, but I'm just so relieved to have a normal boob slope back!
So I was feeling really great in the PACU, and just when I thought I had dodged post-op nausea for the first time in my life, the ride back to day surgery caused a massive quease-fest. With the help of a patient nurse and some wonderful Phenergan, I felt better in an hour or so. I talked with Dr. Teotia for a bit and he explained everything, along with the warning I may feel pretty rough (an overnight stay may have been offered.. Needless to say I vehemently denied!) Mom and Ruthie came back, and after some ginger ale, juice, crackers, and fruit snacks, and the obligatory trip to the bathroom I turned a corner and felt well enough for some walking papers! We were finally out the door a little before 5:30, which was excellent timing before some crazy weather blew in! Made it home amidst the rush hour traffic and my wonderful Dad had food ready and the fireplace on when we walked in. I felt even better with real food on my stomach with a side of pain meds, and snuggled up in my pillow/blanket throne by the fire. Got some mostly decent sleep, just feel like a grandma trying to get up! Ha!
So how am I feeling now? Really pretty good for just the day after. If it wasn't for the fat grafting I'd probably be 95% back to normal but alas… It's already so worth it to see the girls looking and feeling so normal. I hesitate to use the word "pain" because it's more like completely insane soreness for the most part. It's entirely different from the post-mastectomy pain… Not comparable at all. It's mostly movement related, yet it feels good to loosen things up in a "hurts so good" kind of way. But it is indeed covering a much larger area than just my chest… And of course it's the 2 muscle groups (thighs and abdomen) I rely on not to abuse my healing pecs! Oh the irony. But it's still a thousand times better than back in August – none of those hellacious muscle spasms, no drains, and no muscle stretching! I think it's going to improve quickly, and I hope to be off of prescription pain medicine in the next 24 hours, but I am certainly glad I have the time off to recover that I do.
Oddly enough, lifting and movement restrictions were more emphasized yesterday than with the first surgery due to the importance of the implants settling in the correct spot, especially because of the teardrop shape (round ones can spin around all they want… Obviously not the case with teardrops). Dr. T particularly emphasized not raising my arms above my head for 72 hours so the implants are able to adhere, so I definitely feel more cautious than before (where I didn't move for the most part because it hurt!) – I think mainly because with the first one I knew in the back of my head that it was just a "rough draft." Now with this one I absolutely don't want to mess up anything!! So yeah… No more than 10 lbs lifting till the New Year. Glad those Christmas trees are up already!!

Anyhow, I have truly felt enveloped in love and support throughout this whole experience and especially yesterday. It was a long time coming, and the true relief I feel is just amazing. I am so grateful for my incredible medical team, and for the never ending support of my friends and family. It has been quite the journey, but it is definitely the start of a new beginning!
It appears I picked a good time to "hunker down" with the parents for the week given the lovely (not!) weather. So that's my plan… Take it easy, rest, and heal so I'm ready for the holiday festivities. Will update again soon, and thanks again for all the good thoughts sent my way!