After such boring, monotonous posts the last couple weeks, I don't even know where to begin… So much excitement with the beginning of "Pinktober!"  And it couldn't be more fitting to fall on the big 8 week post-op milestone!
I am feeling fabulous.  Brilliant.  This past weekend marked the halfway point between my two surgeries (yeah I miscounted before…), and it was a perfect occasion.  I had the incredible opportunity  to be part of Bright Pink's FabFest (hosted by Giuliana Rancic!) in Chicago with Amy and Eryn.  It was such an incredible, almost surreal experience.  To be surrounded by 600 (!!) women that truly "get it" was truly indescribable.  I kind of alluded back to FabFest a few months ago when I mentioned raising money for an organization – well raise money, we did.  To attend FabFest, you must raise $500 for Bright Pink.  Well I finished with over $700, and had the necessary $500 in less than 12 hours.  Because my family and friends are that amazing, and we believe in the cause that is Bright Pink.
There were so many moments over the weekend that were just amazing.  First, just being with Amy and Eryn, two girls that I had no idea even existed 9 months ago, and yet have become such an integral part of my journey.  I would have gone through with the surgery regardless, but having them there to show me that it really was going to be okay, is something I will never take for granted. We had so much fun together, and it's just surreal to think back to how our journeys crossed.  That we all met because of a blog – just wow.  Gives me chills to think about.
Then getting to FabFest and just seeing the sea of pink was almost overwhelming.  Lindsay Avner has created something truly incredible, and I am so excited to be a part of it.  Lindsay founded Bright Pink when she was just 23 – and at the time, the youngest in the country to have a prophylactic bilateral mastectomy.  She realized the lack of support for young, high risk women, and the rest is just history.  The organization is fun, smart, and so needed.  It's such a fantastic resource, and the energy in this hotel ballroom was just contagious.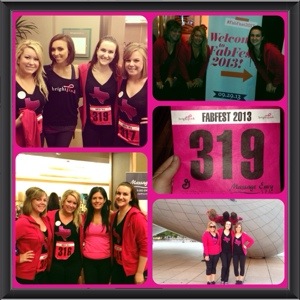 Lindsay and Giuliana had great things to say and led us in the world's largest feel-up… to teach everyone the proper way to do a breast self exam, but still – hilarious!  They had incredible workout sessions, a ton of amazing booths with all sorts of vendors, and TONS of information on taking ownership of your breast and ovarian health.  And of course, and endless supply of bright pink.
But the most touching and memorable moment of the entire weekend was when we met two of the most amazing women I've ever met.  They were the gracious, and so very deserving, recipients of this weekend's Fab-U-Wish.  Both girls were diagnosed with breast cancer while pregnant, and, living across the country from each other, finally got to meet.  And in style.  The pictures are incredible of their time in Chicago, and there was not a dry eye in the room when they were introduced.  But what touched me most was getting to talk to them.  And, after explaining our stories, they applauded US for having prophylactic surgeries.  These women, beautiful with their post-chemo short hair and glow in their faces, who just fought one of the toughest battles out there, are giving US the kudos?!  Seriously?!  It was just amazing.  I am forever in awe of their strength, beauty, and courage – they are such examples of everything that Bright Pink embodies, and an example of true bravery.  Sarah and Adrienne – you are an incredible, and it was an honor to meet you both!
Suffice to say, I came back home inspired, empowered, and thrilled to become more involved with Bright Pink – I just attended a Bright Pink Dallas Meet and Greet last week, so it's perfect timing.  It's a cause near and dear to my heart, and an organization I am proud to support.  Here's to a fabulous kick off to October, and particularly National Hereditary Breast and Ovarian Cancer Awareness Week.  Hug a Previvor tomorrow – it's National Previvor Day!  Celebrate this month however you wish, to celebrate all going through the journey, whether surviving, previving, or simply supporting!  Much love and pink to all!