A little late but… Hello from the other side!!
What a total and complete relief it is to be on the other side of the toughest part!! And I'm thrilled to report that everything went beautifully on Tuesday!
I have such a great support system we were pushing the limits on visitors – They became known as my "posse!" LOL. My amazing parents and friends hung out all day and it was a long one!
We got here a little before 10 and things really kept moving. My amazing pre-op nurse got my IV on the first stick, which was such a relief with my crappy veins. My plastic surgeon made quite the colorful map on my chest marking everything… A rainbow one might say! Talked to my breast surgeon and met with my awesome anesthesiologist, then soon after I got my "IV margarita!" around 12:30. Here I'm ready to go!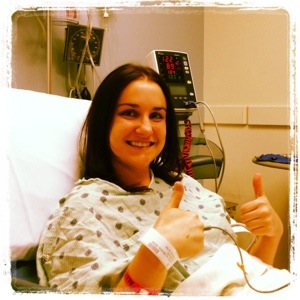 I remember feeling GREAT talking to my CRNA as I sat up to help her get EKG electrodes on my back and then… holy nap batman! Surgery lasted almost six hours and the report from the surgeons was great- I actually do remember talking to them both in PACU. My pesky shunt did get in the way, but my wonderful neurosurgeon was able to fix it quickly – if they hadn't told me I would have never known! So glad he was on standby. My breast surgeon did do a sentinel node biopsy on each side, and we should get a final pathology report that (hopefully) everything is clear soon. The right side took more than twice as long as the left with all the obstacles! But that was expected
My plastic surgeon cracks me up – he is SO passionate about what he does! My friends were having so much fun retelling his report… He was miraculously able to fill my expanders with 500 cc's each!! That's just amazing. So theoretically I could only need 2 fills before I get my permanent implants. I'm SO incredibly pleased with the results so far – the girls are quite bruised and swollen, but look amazing for just over a day out.
I was in recovery for about 2 hours where they gave me lots of awesome drugs… I remember being in and out of it. Then mostly "in"… I do remember the transport and I finally got up to my room at about 8 on Tuesday night with my parents and 3 of my best friends waiting for me!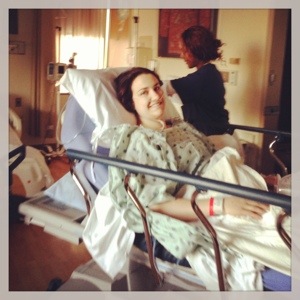 Moving from the stretcher to the bed was so unfortunate, and I made a new best friend with my morphine PCA that night! I absolutely could not move my arms… Dad had to "airplane" feed me mashed potatoes! And my mouth was so dry. Throat not sore at all… Thanks fab anesthesia team!
It was a long night with not being able to move and a decent amount of pain. But the morphine helped a lot… I was off of it by the next morning, switched to oral meds, and as soon as I had my catheter pulled I was able to get up and move around. Yesterday was rough with nausea, but after I got some phenergan I was a new person! And putting on real clothes and brushing my teeth helped immensely too. I had some wonderful visitors to keep me distracted – really this time in the hospital has flown by! Thank goodness for that – I'm ready for some real rest at home now!
Looking pretty good post-op day 1, if I do say so myself!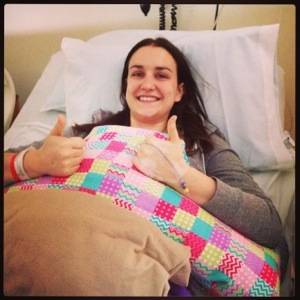 Plastic surgeon was already in this morning and he is thrilled with the result. Thankfully I get to ditch the mastectomy bra – it did its job compressing the swelling but it was getting really tight. My 4 JP drains have slowed down too – I see my plastic surgeon next Thursday and will hopefully get a few, if not all, of them pulled then! They really aren't bothering me though so I feel very lucky in that regard.
Muscle relaxers are my current best friend – they help the pain more than the Vicodin! Since really what hurts is my spasming pec muscles. I'm glad my expanders are as full as they are, but whew the "elephant sitting on your chest" analogy is rather accurate. Though overall I definitely think I'm doing better than I expected. I think being able to go into surgery healthy is so important. Hopefully the soreness will improve every day – right now my range of motion is pretty limited but obviously that's expected. Basically it's my whole upper body that's sore from the positioning in the OR and of course the actual surgery.
Anyhow, all went as well as I could have possibly hoped for! Just waiting on breakfast now, and then once my breast surgeon stops by we should be able to deuce out of here! Yay – the hardest part is over, only going to get better from here!! Thanks again for all the love and support – I can definitely feel it!