Just couldn't resist that title… It's not everyday you get to say your boobs are radioactive!!
So to rewind a little bit since I didn't get a chance to update before the amazing Voyage… This last week is such a blur!! My conference/trip was so fantastic – I'm so glad I scheduled everything like we did, as I couldn't have asked for a better distraction!! Really barely thought of the surgery and it was SO fun! I've said it before and I'll say it again: I am so incredibly lucky to have a job that I absolutely adore. I'm going to miss all the amazing people while I'm gone! But really I think this time away is going to fly by too and I'll be back in no time!!
So after a fabulous, memorable last night out on Friday, I flew back Saturday evening and my roommate picked me up at the airport with this this waiting for me: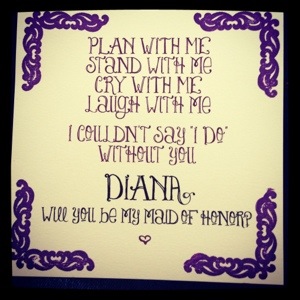 So incredibly excited!! She's one of my absolute best friends from college and I adore this couple so very much. Another great distraction for sure – let the planning commence!
Anyhow, today was a long day… Yet it flew by so quickly at this point I feel like I was just going through the motions! Started off registering so all I have to do tomorrow is show up with my "admit one" ticket to surgery (no really… That's what it says!) Did get thrown for a small loop though… My surgery was bumped back just a little bit. Have to be there at 10 now. Ironically I know the lady before me… We keep running into each other! She's so sweet. So yeah… Surgery is at noon! Fingers crossed… No more bumping!!
Then to the pre-surgery testing nurses… Labs done and went over last minute instructions. Then we hopped over to my plastic surgeon's office so I could sign consents and have pictures taken for a study he's doing that I'm in. It's looking at how to keep the best perfusion in nipple-sparing mastectomies. Love the coordinator – she'll be in the surgery tomorrow too. That just took a little while to get everything done, but was very informative.
Then off to yet another building to nuclear medicine for the lymphocintigraphy. In all honesty I was more anxious about this than I was anything else! Needles and nipples are two words that should never go together!! But really it wasn't terrible… A little weird, especially as I could feel the radioactive isotope moving around, but really not painful. Just stung a bit when they injected each side.
Grabbed some lunch during the 2 hours I had to wait for the dye to travel around, then headed back for the scan part. After some interesting yoga-like poses to get the pictures they needed, I got my latest body art: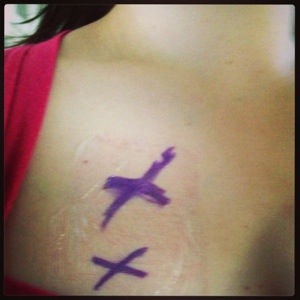 Yeah… Whether it's lymph nodes or simply uptake not quite sure, but it's right where my shunt is as well as where I had a port, so it could be any number of things. That's for my surgeon to decipher tomorrow!! Poor right boob can't catch a break!
So a bit of an exhausting day, but glad to have it over!! I'm still on a high from last night, so it was remarkably easy to get through today. I got this beautiful bracelet last night, and will forever treasure all the memories that I associate with it every time I catch a glimpse: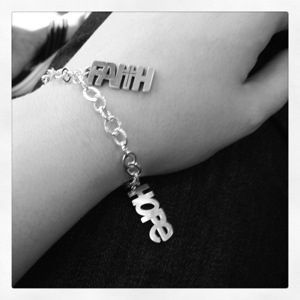 Talked to my wonderful Aunt and now my longtime best friend and her Dad are coming over for dinner… A great way to spend this night!
Hoping for smooth sailing tomorrow… I'm so grateful for all the positive thoughts and prayers headed toward me and my family… I couldn't do this without all of you!!
See you on the other side!!!