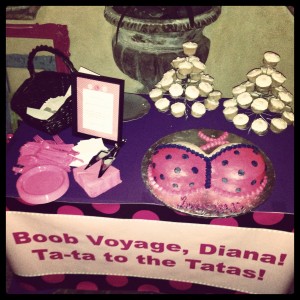 It's not often that I'm speechless.  It's even less often that I can't find words to write.  But, perhaps for the first time in my life, I am absolutely, positively overwhelmed at the amount of support that was shown tonight.  Everything fell into place so perfectly, and it was just the most incredible, beautiful, and FUN "ta-ta to the tatas" I could ever imagined.  In fact, MORE than I could have ever imagined.  I am blessed beyond belief.  To have so many of my incredible family and friends together, whether physically or in spirit, is something so amazing I literally can't find words to describe it.  So instead of turning into a blubbering mess on here, I will let a few of the pictures (that I have at the moment… I know there are many more… and I want them!) speak for themselves.  THANK YOU doesn't seem adequate, but I hope each and every one of you know how much you mean to me.
So all in all, a truly touching night that I will never forget.  My heart is more than full tonight!
Marathon day of pre-op tomorrow… more to come then!