Mastectomy Must-Haves, that is.
I should probably be ashamed (but I'm not) to admit how many of these lists I perused in the weeks and months leading up to my surgery. Obviously, everyone is different, but here's my contribution of things to do and get in the 4 major phases of this process – way before, immediately before, in the hospital, and after at home. Illustrated, of course, 'cause that's how I roll. See also: I heart Instagram.
As Soon as you Decide to Have Surgery
The hardest part is already over… seriously! Making the decision is the absolute hardest thing. You'll be overwhelmed with trying to plan and tell people, so it's a short list. Just three things.
Get in shape
Yeah, I hate to be the girl to mention it, but it has to be done. The healthier you are, the faster and easier your recovery will be. I really beat myself up over this in the five months between scheduling my surgery and the actual day. I tried so hard to stick to my plant-based/flexitarian/part-time vegan/whatever you want to call it diet, and I'm usually pretty good, with or without a big surgery looming. But it's hard when you also want to cherish the social times with your friends. So I finally came to an 80/20 balance, and really just tried to be mindful of what I was (and wasn't… cough…alcohol…cough) putting in my mouth
Likewise, get off your butt. A coworker of mine liked to remind me (often) that "it would be great if you would NOT have a heart attack on the OR table." Tough love? Maybe. But it worked. I don't care WHAT you do, just get your heart rate up and get moving. I like to go big or go home, so I did Insanity. It's appropriately named, let me leave it at that. Or at least I did, until I sprained my ankle because this idiot was doing it on carpet. In running shoes. So get the right equipment and get at it. Initially I thought it would be great to really work my pecs, but thankfully I soon did some research and realized that more bulked up pecs = more difficult to stretch with expanders. Focusing on cardio was the way to go. And abs. Because when you can't use your chest muscles, you're gonna be using those abs like whoa.
Was I successful? No, I wasn't where I (pipe) dreamed I would be, what with my 20 pound weight loss and 6 pack abs when I went into surgery, but I'm slowly coming to terms with the fact that maybe, just maybe, that wasn't realistic. I did lose 7 pounds (this I only know because I totally got called out on it at the gyn-onc… that funny little symptom of ovarian cancer called unintentional weight loss? Yeah they track that pretty close) and my endurance was infinitely better than it was pre-Insanity. Had I not hurt my ankle I think I would have been in even better shape, but for the most part I was good. And my relatively easy recovery is proof of that. Just keep in mind, you're gonna have your shirt off for a LOT of people in the coming months – and muffin tops LOVE to get in pictures!! But there's also the crop feature… bless that little button!
Figure out FMLA
Talk to your job early, if applicable. Figure out the FMLA details. I was approved for 6 weeks, to be safe. I ended up using 3 1/2 since my drains were in for 16 days. Make sure everyone knows you'll be gone, and get the paperwork done early – mine, for example, had to be complete a month before my surgery. Make sure you talk to your breast surgeon's nurse – she's probably the one that will be helping with this. Doing this in advance will help the stress so much!! Remember, you can always go back earlier than you plan for, but don't pretend to be superwoman!!
Start a blog
Perhaps (she says innocently) I'm biased, but I seriously can't recommend starting a blog enough. I could care less if you decide to share it with people, but you seriously will kick yourself for not having this journey documented. I started mine, first and foremost, for myself. Then I got up the courage to share it with people, and it has been such a blessing. I really struggled to tell people about my surgery in person – there's just no eloquent way to do it. There's some people incredibly close to me that I'm ashamed to say found out about my surgery on Facebook (through a blog post). I just couldn't do it anymore, especially long distance. I've always used writing as an outlet, and it's become such a release for me to word vomit my thoughts on here. Even still, I wish I had taken more pictures and video to document all that goes into this.
**********
The Week Before
Time will FLY before your surgery and all the sudden it's a week away. Gulp. Panic sets in. You feel like you're going in circles getting things ready – not unlike pre-baby "nesting." Except it's pre-boob nesting. Totally normal. And that's coming from this 25 year old single girl! Major kudos to all you married mamas out there!! Here's what I did the week before that I highly recommend.
Cute pedicure
This one's easy. Get yourself pampered and get cute toes… you WILL be looking at them without reaching them for awhile! I chose to do this with a bestie (of course the one that this all started with – I do appreciate a good "full circle" moment) and went with the "Be Bright Pink" theme. Approps for sure.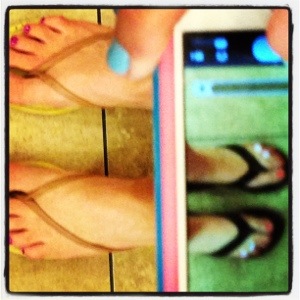 Underarm wax
No need for a picture on this one, but suffice to say, invest in that "wax pass" for a couple months before your surgery – it's so worth it. I went every couple weeks starting in June and it worked great – you won't be able to reach for a bit, and there's no need to feel gross. An easy fix, just takes a bit of preparation.
Organize your crap
That's the nicest way to say that. Get your ducks in a row, both mentally and physically. Peruse the lists of "must-haves" and hit Target (times five…. or ten…). Make sure you've got everything where you can get to it after surgery. That your house is clean. That your work email has an away message, and that you've prepped those stepping up for you while you're gone on all the crazy things people don't know you do.
It definitely takes some time and organization, but it will definitely be worth it to not be worrying about the little things after surgery. Also? It takes up time and is an excellent distraction when you'd otherwise be driving yourself (and those around you) crazy!!
Budoir pics
This one I went back and forth about pretty much as much as you could. Then oddly enough, and I swear I'm not crazy, I had a dream one night that I had surgery and woke up and had this deep feeling of regret that I hadn't documented the "before." So I called up (who am I kidding? I texted) my wonderful friend Sarah, who's not only a BA ICU nurse but a ridiculously talented photographer. We busted out the lace and pearls, and went to town. I don't have them back yet, but will be sure to put one of the more internet-appropriate ones up here then. I had such an odd sense of acceptance after the photo shoot – like I could really go forward this, knowing I had appropriately documented the girls before.
Seriously. Get over your embarrassment and do it.

Boob Voyage
Oh the Boob Voyage. Easily my favorite memory of this entire journey. You HAVE to do this – say ta-ta to those tatas!!
Do it however you feel – whether it's a small group, or you take over a patio at a restaurant, you've got to say goodbye to the girls. I happen to have some ridiculously awesome friends that took this and Ran. With. It. You should see the Pinterest board. It's legit. I was dumbfounded and overwhelmed when over 60 people showed up to say tata. We had so much fun, and really hit home for me that this is why I'm doing this – so I can be here with these amazing people for a looooooong time! I am still overwhelmed by the support, and that feeling stayed with me all the way to the IV margarita… I couldn't have done this without my incredible family and friends, and this was a beautiful way to encompass all that love and support in one room. You won't regret it!!!
**********
For the Hospital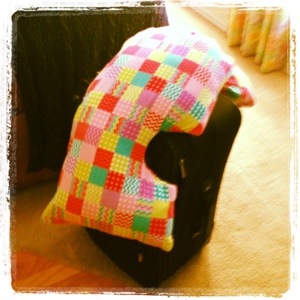 Pack a small rolling suitcase so your family doesn't have to lug stuff around. Even better, get someone to bring it up to you AFTER you're in your room so they aren't having to move it from place to place all day. This worked beautifully. I highly recommend (since I can't demand!!) that you have someone you trust stay overnight with you in the hospital. The first night it was all moral support, and really the second night too, but you just never know. My nurses were fantastic, but still – you need someone to be there to advocate for you if needed, and to be a second set of ears – I felt like I was totally with it when doctors were coming in, but now looking back it's all pretty hazy. And especially with discharge instructions – that's important info!! So bring "your person" (major points if you got that Grey's Anatomy reference!) and don't feel bad – you know you'd do the same for them. Back to the suitcase – I probably overpacked to some extent, but the things I definitely used:
Drain Paraphernalia
There are SO many options for what you can do with your drains. Belts, camisoles, aprons – you name it, I had it! I tried them all, but the mommy-made aprons definitely won out. If craftiness is not abound in your household, a Home Depot craft apron will do just fine. I liked it because it kept them safe and out of my way, yet they were easily accessible to strip and empty.
I had the super-appropriate hot pink and green, for lounging around the hospital and house: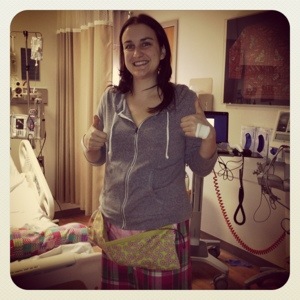 And a modest lovely black for when I felt well enough to go out without advertising to the world that I had additional appendages. This is 10 days post-op, looking pretty incognito, if I do say so myself.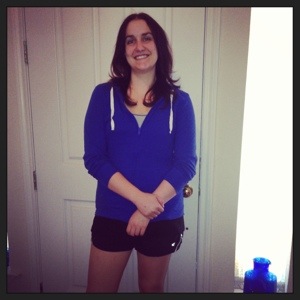 Bedside Table Bag
The little things you'll want in your reach: Purell, Chapstick, gum or mints, tissues (the hospital ones are always hard), snacks (Annie's Organics bunnies were my pick), phone charger, and phone. You should get a nice big cup for water at the hospital, but if not a cup with a lid and straw is a must-have.
Clothes
I only used one pair of pajamas – I changed the day after my surgery, and went home in them too. Comfy flannel pants or sweatpants, clean underwear, and a soft zip up (I hate button ups!) jacket worked great. I still had on my thigh-high TEDs (for DVT prevention) and gripper socks, so I didn't use slippers. The socks were great and I could ditch them and their hospital grunge after! See pic above for my hospital couture.
Pillow for the Hospital AND the Car
I'll get to my favorite pillows below, but suffice to say, you'll want one for the ride home to go between you and the seat belt. Also find a route that minimizes speed bumps! I used my pillows in the hospital, as well as a favorite blanket… I was so much more comfortable once I was in real clothes and had "my" stuff keeping me comfy cozy!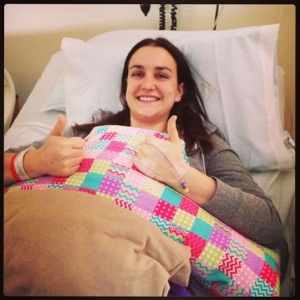 **********
For Home Post-Op
You're still gonna be rather out of it when you get home, so you'll want to have all this set up BEFORE the good drugs begin. This makes those first few days so much smoother for everyone.
Your Throne
I spent the first week plus a few days on the recliner – you really can't use your arms, and are relying on your abs to get you up. A recliner makes this much easier, especially when you're trying to scoot up! Deck the thing out with pillows. Here's what I used: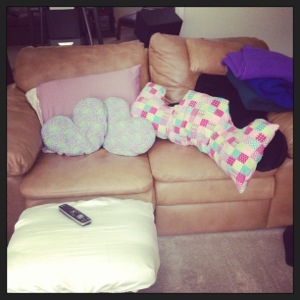 I can't speak highly enough about the weird shaped, brightly colored pillow. This was an unexpected gift from a colleague at work – her mom had a double mastectomy last year, and swore by this pillow. I was so touched, and whoa – do I get it! This thing didn't leave my reach until my drains were all out, and I still sleep with it almost 3 weeks out. It is the PERFECT shape: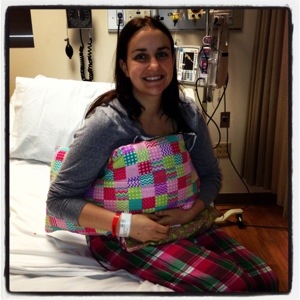 Edited to add: I've had so many requests of "where do I find this pillow?!"  Well I don't quite have the answer for that but I CAN give you dimensions, and really it's not too hard to make!  Here's what it looks like spread out: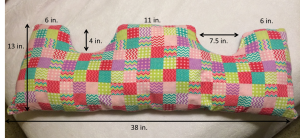 I also LOVE the heart pillows. These came from my breast surgeon's office, made by volunteers. They are great arm supports!! I used them SO much.
I tried to move to sleeping in my bed too soon and woke up miserable, feeling like I was drowning on expanders. But I tried again a few days later, and with this fort of pillows was very comfortable: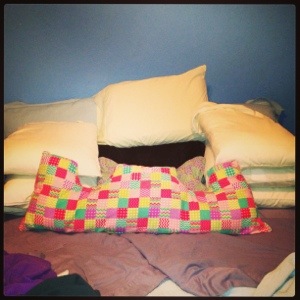 The "boyfriend" pillow is key to keep you supported. Then add in all the others so you can't unintentionally try to roll over (because that hurtttttts), and success!! Make sure you've got important things within your reach, especially your phone in case you need something and can't move to get it.
Your Help
As a super independent, doesn't-like-to-ask-for-help kinda girl, this part was hard. But whether or not you want to admit it, you NEED help. You'll have limited range of motion, and be on pain meds. Take them up on their offers to help!!! My Dad slept downstairs on the other couch for a few nights just to make sure I was okay getting up in the middle of the night. I hate to say 24/7 supervision, but if it's there, it's good. At least for the first week, for sure. Even better: the whole time you have drains.
Drain Stuff
Once you've figured out what you prefer to hold them, there's a few other things you'll need. A lanyard and big safety pins is a MUST for showering!! My plastic surgeon is awesome in that he encourages you to shower (and wash your own hair!) as soon as you can. The drain sites are covered up and incisions are closed, so I wasn't scared to shower with drains. It's just a little awkward and cumbersome! But this helps immensely: the drains have tab loops on them – loop them in a safety pin and attach it to the lanyard, and you're golden.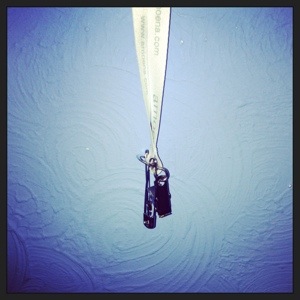 My lanyard actually came with this drain belt (the drain loops slip in the blue Velcro), also from my breast surgeon's office. I used the belt once when both aprons I had were in the wash (don't ask… was a rough afternoon!), but I didn't feel like they were secure, and they felt a little awkward. It definitely came in handy though when I had nothing else, so I don't totally discount it, just didn't prefer it.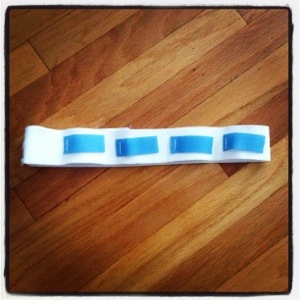 You'll be keeping really close track of how much those drains put out. The nurses should have them labeled (#1, 2, 3, 4 etc) so it's easy to keep track. The hospital will send you home with instructions and all the stuff to strip and drain them, but it's up to you to document. I do love me a good spreadsheet, and it worked beautifully! It was easy for me to use, and easy for my plastic surgeon to see where we were at. Just a super simple Excel sheet is all I used. We had all my "medical stuff" on one side table… meds, drain emptying stuff, dressing stuff, etc. Then it was all in one place, and easy to "de-hospitalize" when I didn't need it anymore!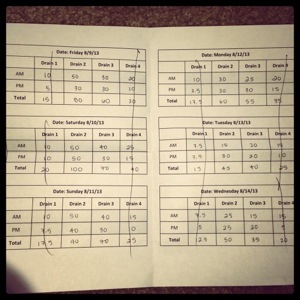 Purell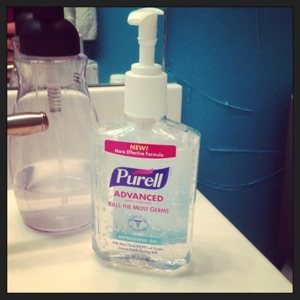 This gets it's own line because it's THAT important! Put it everywhere: next to your recliner, with your meds and drain stuff, in every bathroom in the house. Just say no to infections!!!
Clothes
I had been collecting comfy clothes for awhile leading up to my surgery – lots of lightweight zip-up jackets (Old Navy has my favorite ones!), nice soft pants, both long and capri length, shorts, and cute new underwear.
Definitely get an array of sports bras – I was amazed at the power of the "uniboob" – NONE of the sports bras I used to wear fit, even though my expanders were filled to the same amount of tissue I had. They're just so damn perky and don't squish together, so take that into consideration for sure. My plastic surgeon was very particular about when and what he wanted me wearing, so keep in mind that you will probably be making a few trips to Target to find things that work. Especially as expanders grow!!
DVDs/Entertainment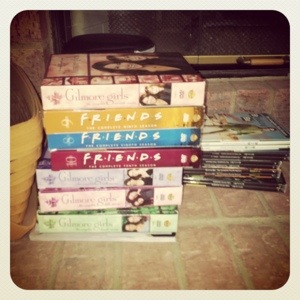 We basically had a constant run of DVD noise in the background for the first 10 days I was home. It was great to have Friends or Gilmore Girls to keep me distracted, and of course I've seen them a zillion times so it was fine when I would fall asleep.  Also, one more word of advice: Netflix.
The Anti-Anesthesia/Narcotics
TMI ahead – but this nurse doesn't care. Shit happens. Usually. But post-op? It's all you can wish for. Seriously, don't underestimate how uncomfortable you can be if you can't go. Start a high-fiber diet the week before, and be generous with the coffee, apple juice and prunes! My doctor prescribed Colace, and knowing I've had issues with medication-induced constipation in the past, I added in Miralax from the get go. Four days later I pulled out the big guns and went for Mag Citrate. It's not gentle, but it was better than the alternative. Thankfully I was evened back out soon. Just beware this is pretty much inevitable, and have an arsenal on hand!
Food
Stock up on your favorites. Lots of bland stuff to start. Definite snacks – Goldfish are the bomb. You'll want to eat something every time you take pain meds, even it's 2 am, so it was so helpful just to have some Goldfish there and ready. My parents were awesome at cooking healthy, filling stuff so I certainly never went hungry. I had a pretty decent appetite after the first 2 days when I was still nauseous from the anesthesia. If I hadn't been staying with my parents, I would have stocked up and froze a bunch of meals in advance. I was pretty lenient on myself and ate what I felt like – figured it's not often you can use the "I'm healing!!" excuse. Just don't go crazy!
Visitors
I was so grateful for my wonderful friends that wanted to come over and see me. They were SUCH great distractions! But take it easy and give yourself time – my recommendation is to not push it – you will know when you're ready. And don't feel guilty. Because trust me, you will feel MORE guilty when you fall asleep during a visit than if you had nicely taken a rain check earlier!! The best visits are friends that bring a movie and food, and join you on the couch!
**********
Alright, there you go – my contribution to the mastectomy prepping! Final reminder: document, document, document!! I highly recommend daily pictures so you can track your progress, and so you can see if anything major has changed that you need to text your plastic surgeon about – we mitigated a couple issues super quickly using this lovely thing called technology! Preparation is key to making this process as smooth and stress-free as possible (which let's be honest, stress-free ain't happenin') so start early and go to Target already!!!!