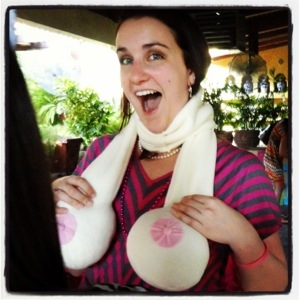 Hello, and welcome!
By way of introduction, I'm Diana – I started this blog on my 25th birthday so I'd have a place to write about my life, in particular my life regarding my BRCA2 gene mutation. Head on over to "The Story" for the details of the BRCA stuff and my decision to have a prophylactic bilateral mastectomy on August 6, 2013.
I've made it a point, since I found out I was BRCA2+ at the age of 20, that I wouldn't let the mutation define me. Because there's so much more to life than a silly missing piece of DNA!
So here you go, 10 things to know about me that are so much more important than a faulty gene:
I am fiercely protective of my family and friends. Because they are everything to me. And they're awesome.
I am an unabashed foodie and a burgeoning wine snob – I recently joined my first wine club, which makes me feel classy.
Some of my favorite memories are from 4 years of nursing school, right out of high school. Who knew saving lives could be so much fun?!
My first "big girl job" was as an ICU nurse for 2.5 years. I was an adrenaline junky. And became a fierce proponent of organ donation, which I still am. I still work at the same hospital, but now as a coordinator. And I love it so much, sometimes I have moments where I think to myself "I'm really getting PAID to do this?!"
Purple has been my favorite color for as long as I can remember. When I was about 5 it was specifically "magenta," but I've become more accepting of all hues in my old age.
Since April of 2012, I've been happily flexitarian. I love cooking and trying new recipes. My favorite apron advertises me as a "Domestic Diva." I'm remarkably okay with this.
I still cry every time I see the final episodes of Friends and Gilmore Girls. I have never missed an episode of Grey's Anatomy. And I love a good chick flick. And Harry Potter. Because those totally go together.
I freaking love holidays. Thanksgiving, Christmas, 4th of July, you name it. And now with Pinterest, they're everywhere. All the time. And I love it.
I'm crafty. Mostly in a scrapbooking sense. I leave the sewing/quilting/knitting/crocheting to my mom. But I can rock a paper cutter and stickers like it's nobody's business.
I love making lists. And spreadsheets. The word "OCD" is thrown around often, but I prefer the term "supremely organized"
Anyhow, that's the girl behind this blog. I'm pretty much an open book about everything BRCA and mastectomy related – I know first-hand how invaluable it is to be able to talk to someone who has "been there, done that." While I don't have them posted for the whole wide world to see at this time, I'm more than happy to share the many pictures I have documenting the surgery and my results if it's something you're considering.
All that said, I'd love to hear from you! Shoot me an email: previvingandthriving(at)gmail.com.
Thanks so much for visiting – your support means more than you know!